What is Pride@Securitas?
"The purpose of Pride@Securitas is to work in partnership with managers and colleagues from across the business to create an inclusive and diverse working environment which encourages a culture of respect and equality for everyone." explains Sarah Hayes, HR Director, Securitas UK. "By promoting an understanding of key issues and influencing our employment and corporate policies, Pride@Securitas will directly and indirectly support our LGBTQ+ colleagues, building a sense of belonging and community, whilst providing a voice for underrepresented employees."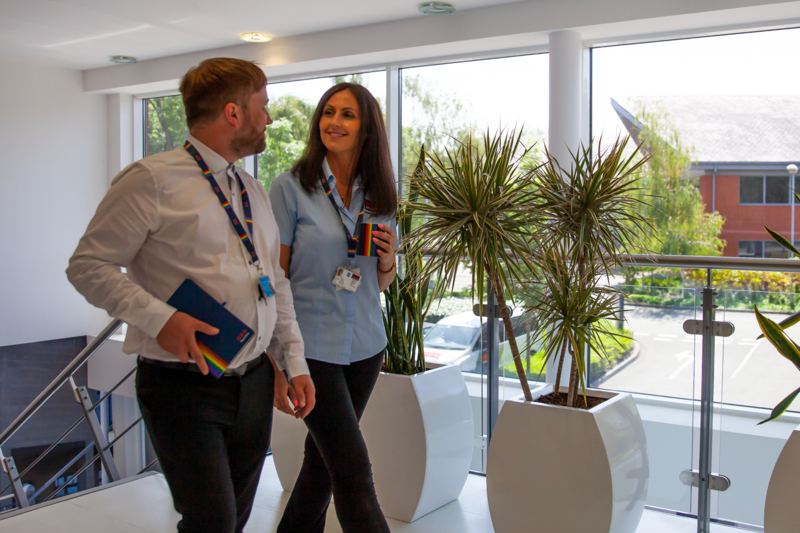 PRIDE (the global movement) exists to promote respect, inclusion and dignity for everyone. Pride Week at Securitas will put these values at the heart of a variety of activities, which include entertaining educational quizzes such as "Know your pronouns", inspirational posts and real people stories on Workplace (Securitas internal communication channel). One highlight will be a special online Drag Bingo event, hosted by West End star Jordan Pollard – aka Maria Renee. The Pride@Securitas team will also be distributing "Pride packs" to colleagues who join the LGBTQ+ staff network.
Promoting inclusion at every level
"Securitas as an organisation has always felt inclusive," says Craig Slaven, SOC Operations Support Lead, Securitas UK, "but the creation of Pride@Securitas is really significant. Having a space where people can discuss their feelings or concerns - not just work related, but also life related – will be fantastic. Pride for me is about being able to be yourself, and having recognition and support within such a large organisation really matters." Slaven is hopeful that Pride@Securitas will help counteract some preconceptions and enlighten staff at every level within the company, but also challenge misconceptions about the security industry itself. "There is a perception that security companies are very macho environments, but that's not the case. If our recruitment advertising can communicate our inclusive approach, members of the LGBTQ+ community will feel more confident about applying."
Collaborative effort
Colleagues from across the business, both from within and outside the LGBTQ+ community collaborated to develop Pride@Securitas. "Pride@Securitas is a long-term initiative – it's not just for Pride Week." emphasises Hayes. "Advancing diversity at work is more important than ever before. An inclusive workplace is not just about having fair policies and practices in place, it's also about celebrating the value that diversity brings to our organisation and making sure everyone feels welcome."

Slaven echoes this view: "One of the main goals of Pride@Securitas is to let everyone know that it is okay to be yourself at Securitas, and we are listening and supportive." he says, "We want everyone to come to work happy and go home happy."