Secure your business with CCTV and remote alarm monitoring
Remote alarm monitoring uses video cameras to see what's happening on your business site both while staffed and, when empty. In the event of an intrusion or fire, staff at the Securitas Operations Centre can review the video feed remotely and respond appropriately. It's a cost-effective alternative to permanent on-site man guarding.
Contact us today
Detect and deter
CCTV cameras are an effective security tool. In the past they were most commonly used for evidential purposes – after an incident has occurred. Today, our remote security solutions use the closed-circuit camera system to detect and respond to potential threats. This proactive approach helps reduce the risk of damage, loss and business disruption.
If a fire or intruder alarm is activated, security operatives at the SOC can review footage from the camera prior to the time the alarm went off to see what the trigger was. They can also look at the live camera feeds to assess what is happening in real time. Some systems have functionality that allows the operative to issue an audio warning so the perpetrator is made aware that they are being watched. If necessary, SOC will send a mobile patrol team to the site to investigate further.

Remote area protection
Using 24/7 video surveillance we can monitor security threats around the perimeter of your site, creating a 'virtual fence'. Incurring far fewer man hours than traditional area protection, remote area protection is efficient and cost-effective. Insights from video analytics can also be used to optimise the system over time.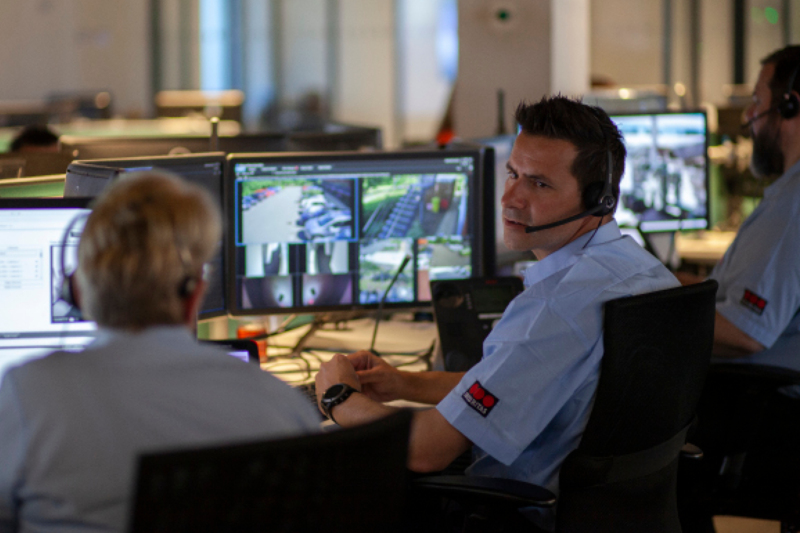 Remote patrolling
Remote patrolling is a modern approach to guarding that uses video-based patrols to provide surveillance of your site. Our remote guarding operators conduct patrols by logging into the camera network at agreed times – the frequency of the logins can be increased or re-scheduled for critical situations or during specific events. In the event of an incident, we will alert onsite guards or send a mobile team. This is a more affordable option than using extensive man hours to cover remote sites or those with multiple facilities.

Why use our alarm monitoring services?
Visible presence of cameras acts as a deterrent
Reduce false call outs
Identify threats more swiftly and take appropriate action
Emergencies services alerted and informed it is not a false alarm
Peace of mind
Contact us today to find out how we combine cutting edge technology with real time intelligence to keep you and your business safe.