24/7 alarm monitoring for your business
Intruder and fire alarm monitoring that never sleeps
From intruders to fires, the risks faced by your business are continual, inconvenient and often unpredictable. With intruder and fire alarm monitoring you have peace of mind that an experienced professional is ready to respond, and the quicker a potential threat is identified, the better the chance of reducing the impact it has on your business.
Contact us today
Always ready to respond
With our 24/7 fire and intruder alarm monitoring service in place, if your alarm goes off, no matter what time of day or night, we'll quickly assess the situation and start the appropriate response procedure.
We can immediately notify you – or the designated keyholder – of the alarm activation and, in the event of an intruder or fire, alert the emergency services and direct them to the scene.
Our alarm monitoring can be combined with our mobile alarm response and keyholding services to further reduce the impact on yourself or staff. This holistic approach is the fastest way to identify security or fire risks and ensure prompt action is taken.
Round-the-clock support
Your alarm is connected to our state-of-the-art Alarm Receiving Centre. Our operators are highly-trained to provide calm, clear communications, so if we need to contact you, you can be reassured that we'll be right by your side until an issue is resolved and beyond.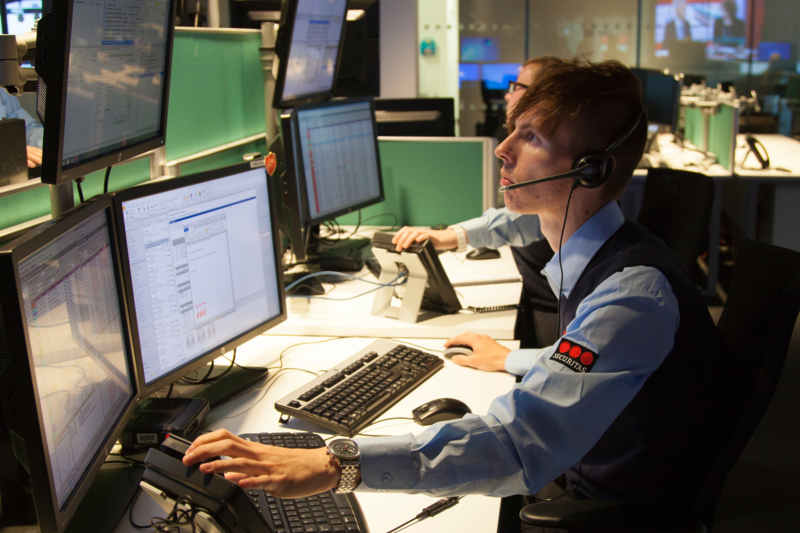 Benefits of monitoring
The faster the response to a fire, the less damage and disruption to your business.
Rather than you or a member of your staff putting themselves at risk by responding to a fire alarm, you can – and should – leave it to the professionals.
Some insurers require fire alarm monitoring as a condition of cover.
Why use our alarm monitoring services?
Our security experts can quickly identify the risks and immediately alert the appropriate emergency services.
We can despatch Protective Service Officers to your site within minutes
Our skilled operators are there 24/7, handling over 2,000 calls and actioning over 900 alarm activations, every day
The state-of-the-art SOC, built to the new European NSI Gold standard, was the first to be accredited in the UK.
All incidents are clearly reported to help identify future risks and advise on intelligent preventative measures.

We can work with your existing suppliers or install the latest alarm and CCTV technology, to ensure you have the very best alarm monitoring in place.
Could CCTV or video cameras help you?
Fresh thinking and better value
Read how our solutions-led approach delivered a cost-effective mix of manpower and technology. We used a combination of alarm monitoring, CCTV, motion sensor analytics, mobile patrols and access control. Results? A significantly improved security and substantial cost savings.
Read the case study
Peace of mind
Contact us today to find out how we combine cutting edge technology with real time intelligence to keep you and your business safe.