Your business is unique, so we don't offer a "one-size-fits-all". Instead, we layer six Protective Services for your complete security.
Thousands of clients trust us every day. Here are some of the recommendations and testimonials.
"We have used Securitas for the last 6 years and I must emphasise what a great working relationship we have. I am extremely happy with the service that they provide, they are extremely efficient, available 24/7, day and night." - Facilities Manager, PRA Health Sciences
"Securitas are a highly competent and professional service provider who regularly go above and beyond to meet their customers' needs. They react quickly to an ever-changing working environment and have called out at short notice for emergency site closures." - Andor Technology Ltd
"Securitas are very good, they are very easy to contact and very approachable. Always willing to help and any changes in requirements are fulfilled. Every time I need anything the team are always happy to help out." – Maintenance Co-Ordinator - WRC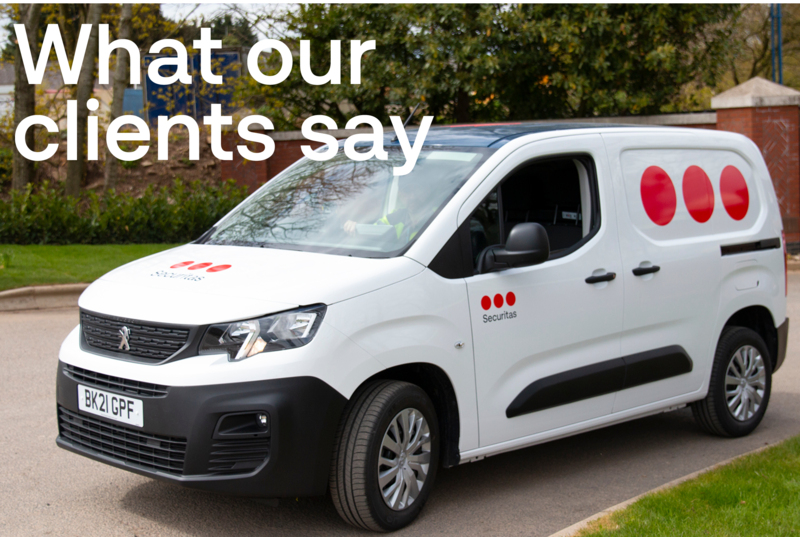 "They provide a 100% professional service at all times." - Facilities & Business Support Manager, Capita / Akinika Debt Recovery
"Reliable, friendly & reachable." - Senior Site Coordinator, Ingredion

"Quality and response are really good, the team are always willing to listen and work with us as well as offer advice." – Finance Team, Mix Telematics
"We have a great relationship with Securitas who have provided mobile response security to our sites across the UK for a number of years. The service is highly recommended as always responsive to our needs, even with short timescales." - Director, Hardhat Logistics & VIS Systems
"Securitas are a trusted, reliable and extremely valuable supplier of ours. Providing excellent levels of service and flexibility across a wide number of commercial properties. I have the upmost confidence in everything they do for us and rely on them enormously. I would happily recommend them to anyone for any of their security needs." - Property Manager, Business In Focus
"Extremely reliable, really helpful, willing and proactive." – Office Manager, Beiersdorf
Peace of mind
send an enquiry today to start your quote and to find out how we combine cutting edge technology with real time intelligence to keep you and your business safe.