Security officers don't have the option of working from home, their job demands that they go where they are needed to protect people and property. However, a recent survey revealed how few people considered security officers to be essential workers – here is a true story that we hope will help change that perception.

No ordinary day
It seemed an ordinary day for our officers Denzil Wathen, Tara Herbert and Securitas shift supervisor David Francis, providing security and front of house services at the UK's largest munitions factory. These duties include authorising access, mobile and foot patrols, speed checks and vehicle searches, and monitoring of the CCTV cameras. Towards the end of the shift, the team received a call alerting them to a road traffic accident on site. Denzil hurried to the scene where he saw evidence that a serious injury had been sustained, although the casualty was nowhere to be seen.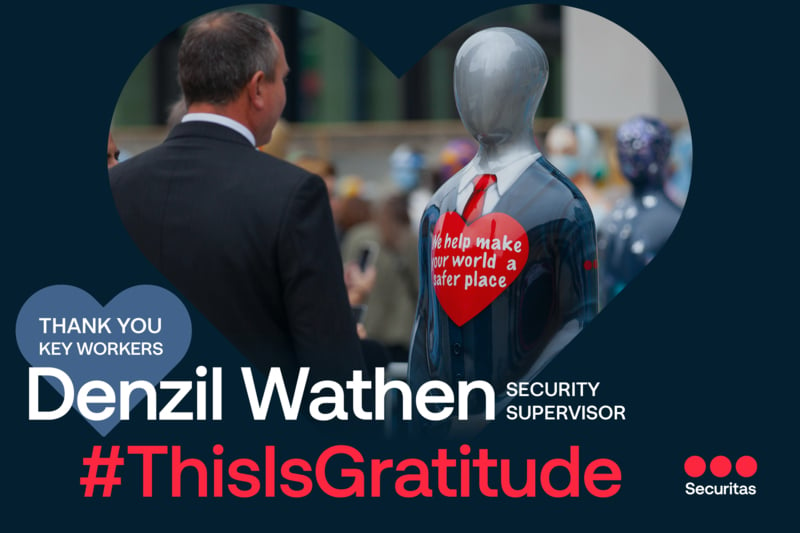 Denzil reported the severity of the situation to Tara and Dave and then began a search to locate the missing casualty whom he found in a nearby canteen. It was clear that his injuries were extensive and life threatening. It was a harrowing situation, but Denzil immediately began applying pressure to reduce the casualty's blood loss while also keeping his airways open. (All our security officers learn First Aid skills as part of their training). Struggling to maintain communication with his colleagues whilst providing this critical assistance, he called for back-up. Leaving Tara in charge of the control room, Dave quickly joined Denzil and took over radio communication, delivering minute-by-minute updates to Tara who relayed them to the paramedic team that was on its way.

For 40 minutes, Denzil continued to deliver lifesaving treatment until the paramedics arrived and ventilated the patient before rushing him to hospital.
Security officers say 'it's just doing our job'
After a lengthy hospital stay the casualty made a full recovery, but there is no doubt that if it wasn't for Denzil's actions and the support of his team in guiding the paramedics to the scene, the outcome would have been very different.
Denzil, Tara and Dave would say that they were "just doing their job." And that's really what we want to highlight: when security officers go to work there is always a risk that they might find themselves in a difficult or distressing situation. They know this, but still they continue to play their often unseen part in keeping the public safe, and for that they deserve our gratitude.
To highlight Denzil, Tara and Dave's story, Securitas is taking part in the Gratitude art installation. The free art exhibition, in partnership with local UK artists, aims to highlight the role of keyworkers in our everyday life. The free art exhibition, in partnership with local UK artists aims to highlighting the role of keyworkers in our everyday life. Gratitude is in Manchester, St. Peter's Square from Friday 03 September, followed by Edinburgh (17-26 September) and London (01-10 October).
How to get your free tickets
Tickets for Gratitude in Manchester are available now. Entry is free but you have to reserve a time slot and you can do this here.

Paul Hemmings, BAE Systems Site Operations Manager and Shaun Kennedy, Country President, Securitas UK present Denzil with his Outstanding act award.
Read more stories like this: