Jodie and her fellow security officers were on duty at a busy ferry port when they were called to the terminal over concerns about a passenger who had been in one of the customer toilet cubicles for quite some time. The officers approached him to ask if he was okay and suggested that he return to the terminal. Not understanding the request, he not only left the toilets but headed out of the terminal itself.
From Jodie's training and experience within and outside Securitas, she recognised certain characteristics and behavioural traits that led her to think that the young man was on the autistic spectrum. She followed and tried to speak to him, but he would not engage with her, and she could not stop him leaving the port.
Not giving up
Jodie was so concerned for the man's welfare that she asked one of her night shift colleagues to contact her if he reappeared. On receiving a call that he had indeed returned, Jodie quickly drove to the port and joined him in the terminal. She even brought with her some food for him.

This time, the man was willing to engage with her. Whilst he ate the food she had provided, Jodie gently gathered more information about him. He told her that he had come over for a job interview but did not know how he was going to get back to Ireland. Jodie tried to contact his friends and family through various means but struggled to get hold of any of them.

Suspecting that the man was stranded without the means to return home, Jodie approached the ferry staff to ask whether a complimentary ticket for the next ferry home could be organised – she even offered to accompany him on the crossing.
The ferry staff agreed to book him onto the next sailing and Jodie stayed until she was sure he was safely on his way.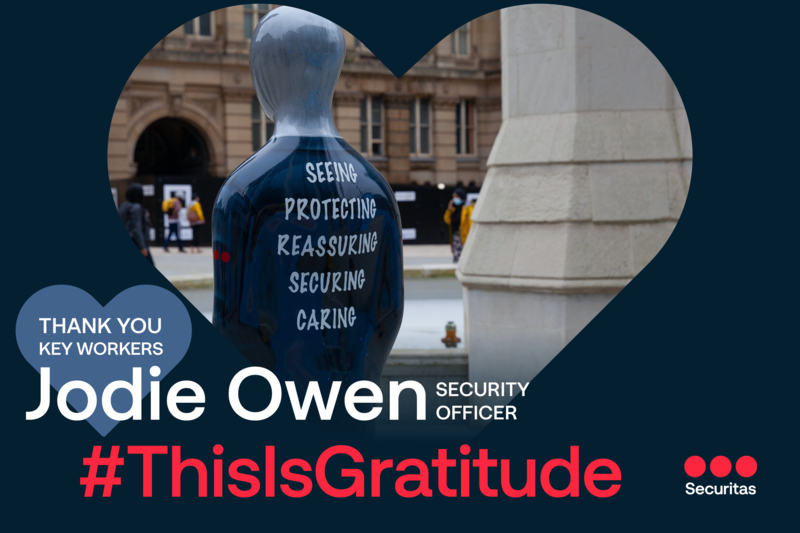 Just glad to help

Jodie's actions that day went far beyond the responsibilities of her role as a security officer, but that is not the way she sees it. "I didn't do anything extraordinary; I just did what I would do every day," she says. "If I was ever in that position, I would hope somebody would help me. I was glad I could help him and was happy to see him safe and back home with his loved ones."

We are fortunate that people like Jodie choose to work within the security industry; the qualities they bring to the role – including compassion, perception and a willingness to go the extra mile – are too often overlooked by the public. That's why we are working with others in the sector to raise awareness of the fact that it's the commitment of security officers like Jodie that help make the world a kinder, safer place.

To highlight Jodie's story, Securitas is taking part in the Gratitude art installation. The free art exhibition, in partnership with local UK artists aims to highlighting the role of key workers in our everyday life.
Gratitude will be in Newhailes House and Gardens, Musselburgh, Edinburgh from 17th September before moving to its final destination in London (1st-10th October).


How to get your free tickets
Tickets for Gratitude in Edinburgh are available now. Entry is free but you have to reserve a time slot and you can do this here.