A high security site

Nelson Paulino-Eufigenio is a Securitas Site Manager at a 'List X' site in central London. List X denotes a location housing activities and personnel that are vital to national and international security. The sensitivities of this site call for seven-star security and Nelson's commitment to delivering for the client and his own six-person team has become even more apparent during the pandemic.
Early on, a confirmed case of Covid-19 closed the site, but security coverage was still required around the clock. With some members of the core team having to shield, and relief officers based outside London struggling to get in due to restricted travel, there was the danger of a shortfall in our man guarding provision.
Nelson took it upon himself to meet the client's needs and support his team by adding his own name to the shift roster. Usually contracted to work 42 hours a week on day shifts, he took on an extra 12 hours a week, working days, nights and weekends. As an asthma sufferer he was more vulnerable to the health risks associated with Covid-19, but this did not deter him from turning up, time after time.


Alert to terrorist threats
Nelson's ability to see the 'bigger picture' also translates into an ongoing alertness of the environment around him. An example of this was his quick assessment of a security breach that he saw could pose a potential terror threat. He rapidly raised his concerns with both Securitas and the client, enabling action to avert the threat. "I believe in delivering the company values (Integrity, Vigilance, Helpfulness) for my team and my clients" he says, "but I also try and apply them when I'm not working, knowing that we can make a difference by helping neighbours and members of the public too."
Recently Nelson was awarded the 2021 Securitas Global Purpose Award - an internal award for Securitas employees across the world who live and breathe Securitas values.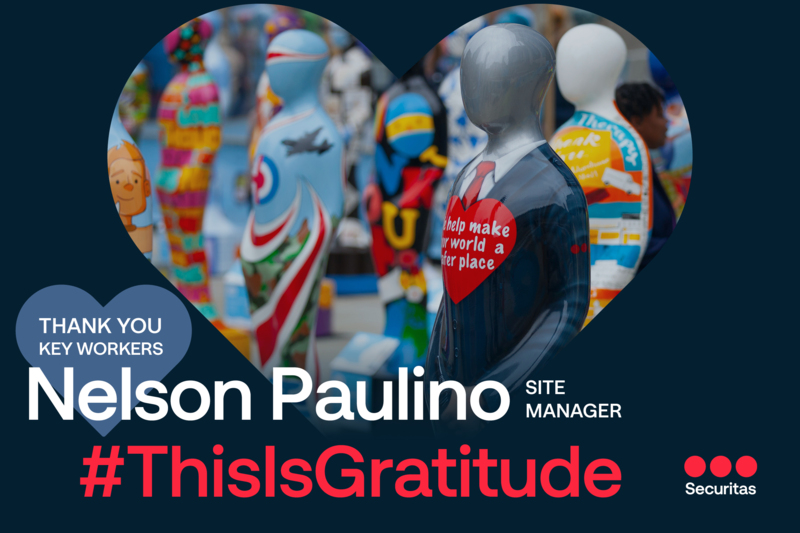 As Nelson's story demonstrates, security officers have shown great commitment during the pandemic – as they do in 'normal times' – often making make sacrifices and taking risks to keep the public safe. So, when expressing our appreciation for the fantastic efforts of the NHS, carers and everyone else who has contributed to our safety and wellbeing, we should also extend our gratitude to those less visible essential workers, the nation's security officers.

To highlight the work of all those in the security industry during the pandemic, Securitas is taking part in the Gratitude art installation. The free art exhibition, in partnership with local UK artists, aims to highlight the role of keyworkers in our everyday life. After touring the UK, Gratitude makes its final stop in London (1st-10th October). Read more about Gratitude here.
Gratitude: playing our part